OneCUT PRO
Rapid OneCUT PRO is an efficient slow-speed granulator, suitable for grinding of smaller products, sprues, etc. Comes with several innovative features. 
Rapid EnergySMART – save up to 80% of energy consumption! You can let the granulator run automatically (can be adjusted) and at intervals, based on load. Granulator can be paused while material is collected in the granule bin and then restarted automatically to grind and then pause again. 
Quick Rotor Release – open the granulator and disconnect the rotor in 30 sec to clean quickly and efficiently. 
Rapid FlexiSPEED – adapt the rotor speed to the material properties. 
Automatic rotor reversal is standard. 
These are just some of the benefits of OneCUT PRO. Add smart metal detection, low noise levels and it becomes the obvious standard for slow-speed granulators.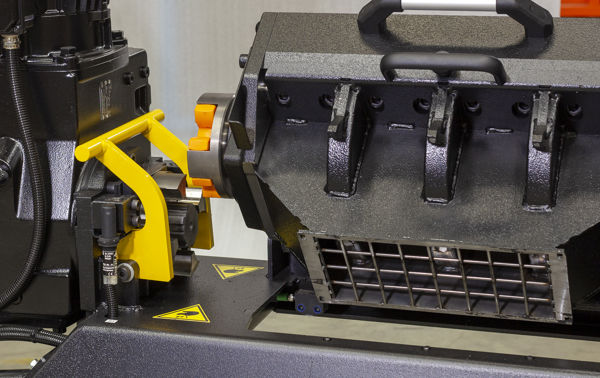 Rapid QRR (Quick Rotor Release)
Thanks to Rapid QRR, the OneCUT can be opened completely to access the granulator housing and disconnect the rotor in about 30 sec. Quick and easy access to clean or for service and maintenance. A freely rotating rotor and full visibility of the cutterhouse means that you do not have to guess whether the granulator is clean or not.
The opening / closing of the cutterhouse is facilitated by a gas spring, which makes it easy to open and safe to close the heavy granulator housing.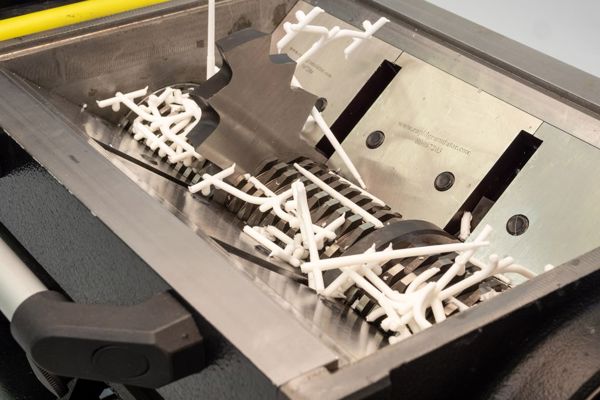 Straight cut with offset segments
The straight rows of knives maximize the gripping of sprues and products. Properly gripped material enables efficient cutting and reduces dust and fine particles that affect the process negatively.
The "teeth" are square to give a uniform high-quality regrind, and the rotor segments are staggered, which gives a smoother cut and lower energy consumption.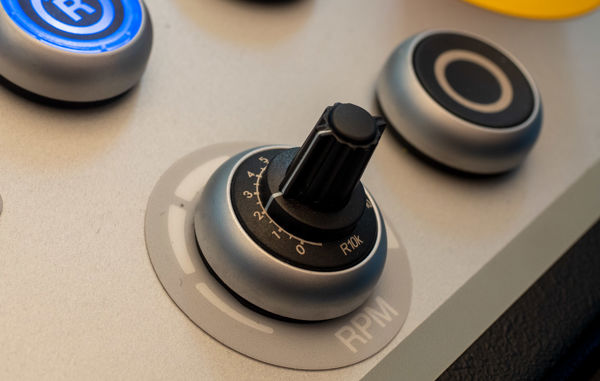 FlexiSPEED – Optimize and save energy
With the potentiometer on the panel, you can easily change the rotor speed ± by 40% (15-35 rpm) to get the best regrind quality for every granulation run.
Lower speeds – for brittle materials, lower noise levels and lower energy consumption.
Higher speeds – suitable for soft materials or when higher capacity is required.
| | | | |
| --- | --- | --- | --- |
| Model | 100-22 | 100-33 | 100-44 |
| Rotor |   |   |   |
| Rotating knives | 1 | 2 | 3 |
| Rotor segments | 2 | 3 | 4 |
| Cutterhouse |   |   |   |
| Fixed knives | 2 | 3 | 4 |
| Scrapers | 2 | 3 | 4 |
| Size, (mm) | 215x220 | 330x220 | 445x220 |
| Transmission |   |   |   |
| Motor standard, (kW) | 1.5 | 1.5 | 1.5 |
| Motor alternatives, (kW) | 2.2 | 2.2 | 2.2 |
| | | | |
| --- | --- | --- | --- |
| Model | 100-22 | 100-33 | 100-44 |
| Rotor |   |   |   |
| Rotating knives | 1 | 2 | 3 |
| Rotor segments | 2 | 3 | 4 |
| Cutterhouse |   |   |   |
| Fixed knives | 2 | 3 | 4 |
| Scrapers | 2 | 3 | 4 |
| Size, (inch) | 8.5"x8.5" | 13"x8.5" | 17.5"x8.5" |
| Transmission |   |   |   |
| Motor standard, (HP) | 2 | 2 | 2 |
| Motor alternatives, (HP) | 3 | 3 | 3 |
Dimensional drawing/layout
| | | | |
| --- | --- | --- | --- |
| OneCUT PRO | 100-22 | 100-33 | 100-44 |
| A | 215 | 330 | 445 |
| B | 200 | 260 | 320 |
| C | 520 | 605 | 690 |
| D | 1160 | 1280 | 1400 |
| E | 1720 | 1800 | 1890 |
| | | | |
| --- | --- | --- | --- |
| OneCUT PRO | 100-22 | 100-33 | 100-44 |
| A | 8.5" | 13" | 17.5" |
| B | 7.9" | 10,2 | 12.5" |
| C | 20.5" | 23.8" | 27.2" |
| D | 45.7" | 50.4" | 55" |
| E | 67.7" | 70.9" | 74.5" |