600 "Open-Hearted"
Rapid's 600 series is suitable for all types of materials, everything from in-line recycling of large products to central granulation where greater output capacity is required. It is the largest in our series of Open-Hearted granulators.
Open-Hearted design 

–

 

for 

quick 

and easy 

access to the

 cutting chamber of the 

granulator for cleaning/

maintenance

– maximizes your production time.

Lower energy consumption with double-scissors cutting action. 
Pre-adjustable knives for optimal knife sharpness.
Various infeed options for all types of applications. 
Reversible screen

– for longer life.

 
MCT – mineral composite-filled base reduces vibrations. 
Constant Cutting Circle (CCC).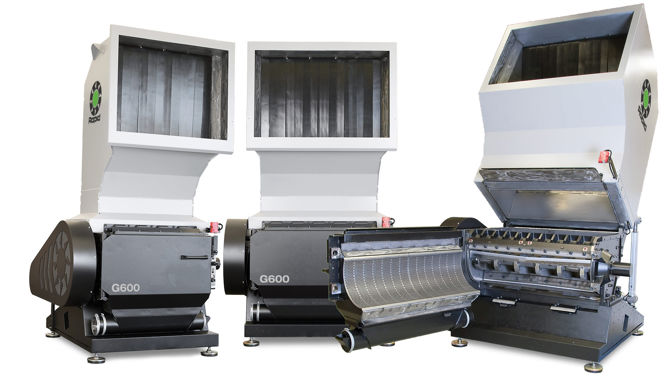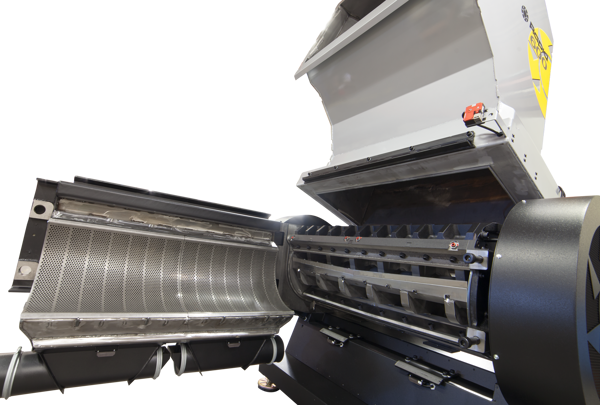 Open-Hearted design
Rapid's Open-Hearted design provides quick, easy and complete access to the granulator's heart - the cutting area of the granulator. This facilitates quick and easy cleaning when changing colors or materials. Maximum visibility of the cutting area removes doubts if it is clean or not with no hidden corners where materials can be "missed". Replacement of knives are also easy due to the easy access.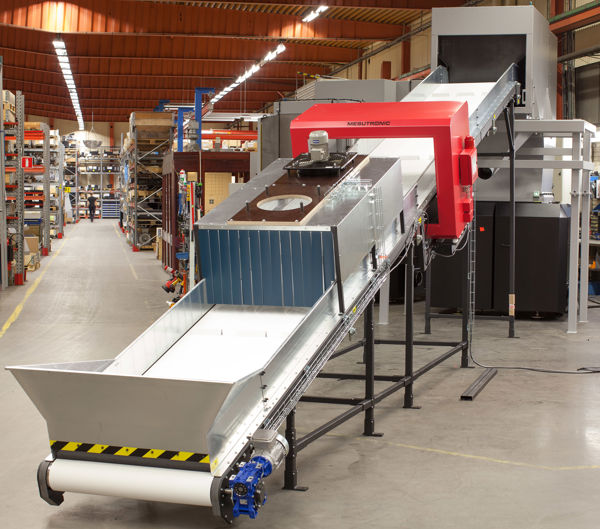 Custom configuration

 
With a variety of infeed options and cutter house configurations, we can adapt each granulator to your specific needs.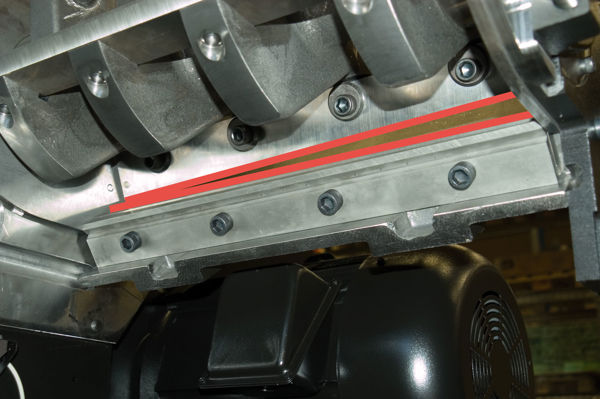 Lower energy consumption with "double-scissor knives"
With a genuine double-scissor knife configuration, where both the fixed and rotating knives are angled, the force needed to cut the plastic is significantly reduced. This in combination with a large torque means that a smaller motor can be used thereby saving energy costs.
Model
600-90
600-120
600-150
Rotor
 
 
 
Rotor diameter (mm)
600
600
600
Rotor, type
3-blade, open
Rotating knives
6 (3x2)
Cutterhouse
 
 
 
Super-Tagential

Gives high grip ability in voluminous products

Super-Tangential, dim. (mm)
900 x 800
1200 x 800
1500 x 800
Tangential, dim. (mm), optional
900 x 630
1200 x 630
1500 x 630
Pre-Cut, dim. (mm), optional
900 x 630
1200 x 630
1500 x 630
Fixed knives
2 x 2
Transmission
 
 
 
Standard motor, (kW)
75
90
90
Optional motor alternatives, (kW)
55, 75, 90, 110, 132, 160
Screen
 
 
 
Screen hole diam., (mm)
8 (option: 6 /10 / 12)
Performance
 
 
 
Standard hopper inlet, (mm)
900 x 600
1200 x 600
1500 x 600
Weight, (kg)
6.500
7.500
9.000
Model
600-90
600-120
600-150
Rotor
 
 
 
Rotor diameter (inch)
24"
24"
24"
Rotor, type
3-blade, open
Rotating knives 
6 (3x2)
Cutterhouse
 
 
 
Super-Tangential

Gives high grip ability in voluminous products

Super-Tangential, dim. (inch)
36" x 31 1/2"
48" x 31 1/2"
60" x 31 1/2"
Tangential, dim. (inch), optional
36" x 25"
 48" x 25"
 60" x 25"
Pre-Cut, dim. (inch), optional
36" x 25"
 48" x 25"
 60" x 25"
Fixed knives
2 x 2
Transmission
 
 
 
Standard motor, (Hp)
100
125
125
Optional motor alternatives, (Hp)
75, 100, 125, 150, 200, 250
Screen
 
 
 
Screen hole diam., (inch)
5/16" 
Performance
 
 
 
Standard hopper inlet, (inch)
36" x 23 5/8"
48 x 23 5/8"
60" x 23 5/8"
Weight, (lbs)
14.500
17.000
20.000
Dimensional drawing/layout
| | | | |
| --- | --- | --- | --- |
| Model | 600-90 | 600-120 | 600-150 |
| A | 900 | 1200 | 1500 |
| B | 1960 | 2260 | 2560 |
| C | 3200 | 3500 | 3800 |
| | | | |
| --- | --- | --- | --- |
| Model | 600-90 | 600-120 | 600-150 |
| A | 36" | 48" | 60" |
| B | 77 3/16" | 89" | 101" |
| C | 126" | 138" | 150" |