ThermoPRO
Rapid ThermoPRO for low noise granulation of skeletal waste.
Open-Hearted design – direct access to the granulators heart in less than a minute, which simplifies cleaning and maintenance.  
3 types of loop control – fully integrated, external or free-standing loop control for in-line integration with the thermoforming machine. 
The market's lowest noise level – with complete sound enclosure for below 80 dB (A), depending on material and application. 
Available in 3 widths, 600, 900 and 1200 mm with capacity up to 1

 

ton/h.

 
Constant Cutting Circle (CCC). 
MCT – mineral composite base for reduced vibrations.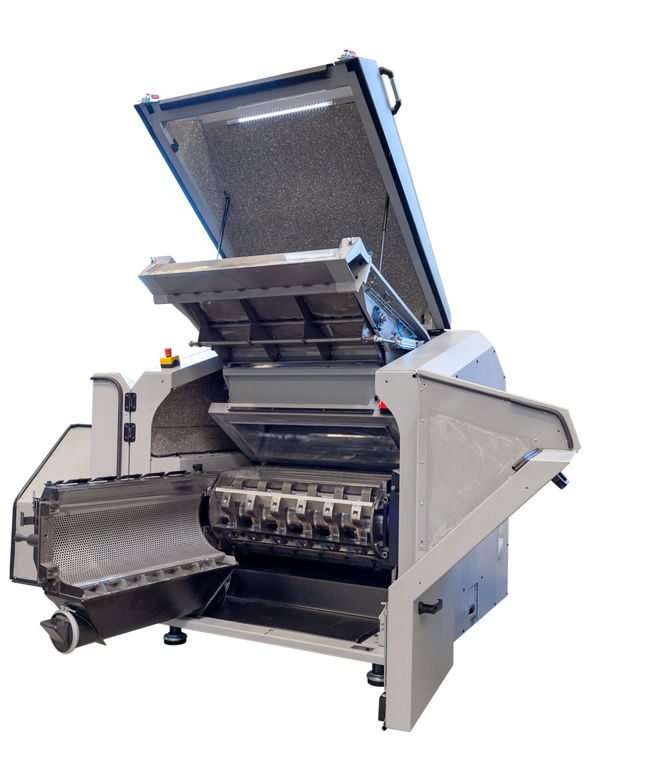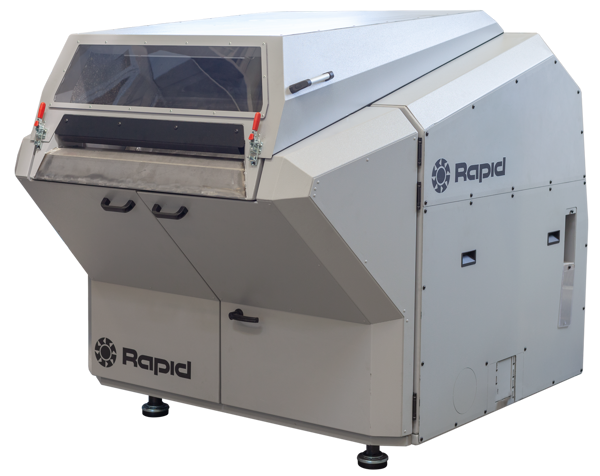 Integrated loop control
With integrated loop control the noise level is reduced to below 80 dB (A) in most applications. The machine is equipped with an inspection window for the operator to easily detect issues with feeding.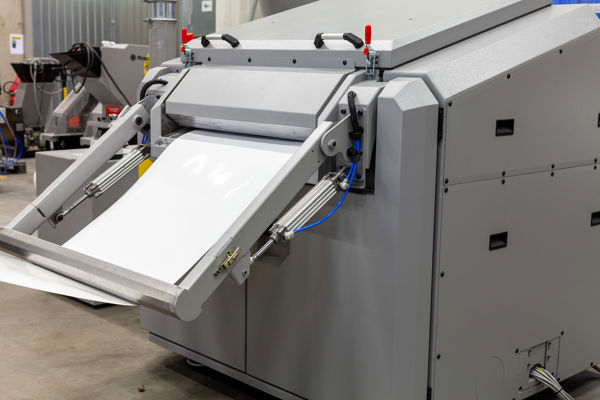 External loop control
Suitable for in-line granulation of skeletal waste with unpunched products. Can handle up to 80 mm mold depth depending on material.   
The loop control arm is mounted in front of the machine and is removable to facilitate service and cleaning of the machine. It can be supplemented with weights for improved functionality. 
Stand-alone loop control
Suitable for deep-draw products of up to 200 mm and when there is unpunched products in the skeleton. The loop arm can be supplemented with weights for improved functionality.  
Model
400-60
400-90
400-120
Rotor, diameter (mm)
350
Rotor type
3 blade, open
Rotating knives
3
3
2x3
Fixed knives
2
2
2x2
Cutterhouse, Tangential (mm)
620 x 360
920 x 360
1220 x 360
Motor, Standard (kW)
11
15
22
Motor, alternatives (kW)
11 / 15 / 18,5 / 22 / 32 / 37
Capacity, kg/h, depending on material, screen, motor etc.
600
900
1200
Model
400-60
400-90
400-120
Rotor, diameter (inch)
13 3/4"
Rotor type
3 blade, open
Rotating knives
3
3
2x3
Fixed knives
2
2
2x2
Cutterhouse, Tangential (inch)
24" x 14"
36" x 14"
48" x 14"
Motor, Standard (HP)
15
20
30
Motor, alternatives (HP)
11 / 15 / 18,5 / 22 / 32 / 37
Capacity, lbs/h, depending on material, screen, motor etc.
1300
2000
2600
Dimensional drawing/layout
| | | | |
| --- | --- | --- | --- |
|   | ThermoPRO 600 | ThermoPRO 900 | ThermoPRO 1200 |
| A | 620 | 920 | 1220 |
| B | 1360 | 1660 | 1960 |
| | | | |
| --- | --- | --- | --- |
|   | ThermoPRO 600 | ThermoPRO 900 | ThermoPRO 1200 |
| A | 24" | 36" | 48" |
| B | 53 1/2" | 65 1/2" | 77" |