Raptor FlexiPUSH
Raptor FlexiPUSH shredders are designed for all types of thermoplastics, large 1200-liter IBC containers or lumps - everything is ground down efficiently. Rapid Raptor shredders come in 2 widths, 800 and 1350 mm. The standard version is equipped with FlexiPUSH (pneumatic pusher). The machine can also be equipped with a TopPUSH, a function that presses the material against the rotor to improve output capacity. It is specially developed for bulky products.
Recycles all types of thermoplastic.
Open-Hearted design.
Energy efficient.
Industry 4.0.
3 rotor variants – film/foil, lump, bulky material.
QuadCUT™ – patented unique knife design.
Reversible screen – for longer life.
MCT – mineral composite filled base for reduced vibrations.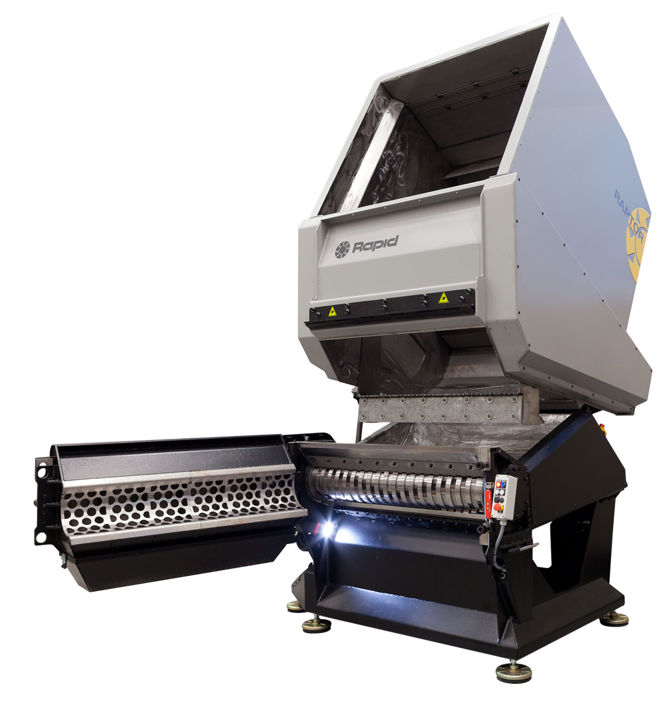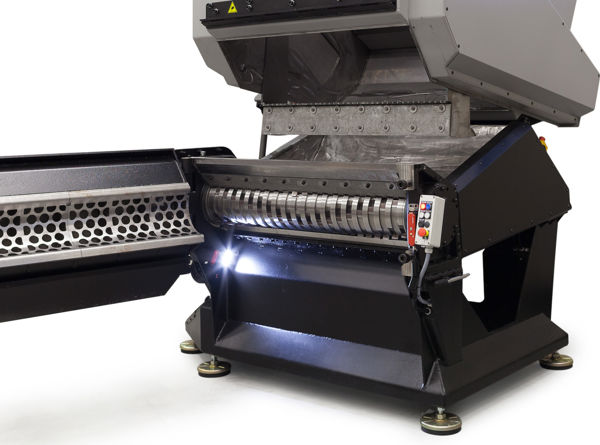 Open-Hearted Design
Offers total access to the interior of the shredder, including granule box and screen. This provides unmatched access to both rotating and fixed knives for service and maintenance.
Allows visibly clean inspection with easy and complete view of cleaning surfaces to ensure no residual or hidden material thereby preventing contamination at color changes.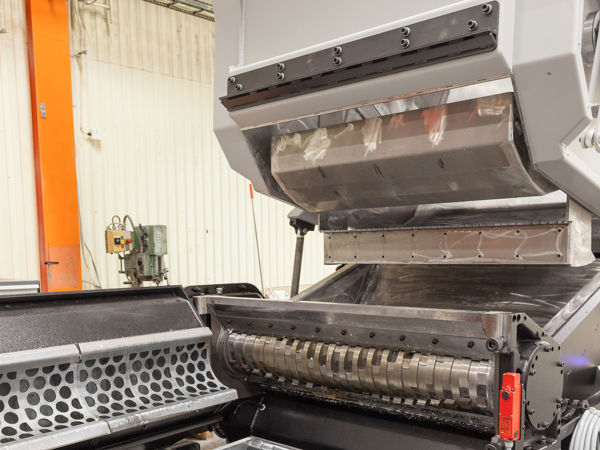 Pusher System
FlexiPUSH – pneumatically driven pusher for simpler applications with lower capacity requirements. The pusher design allows a completely closed feed that effectively prevents leakage.
The FlexiPUSH shredders can also be supplemented with TopPUSH to compress bulky and voluminous products, for example – IBC, 200-liter drums, etc.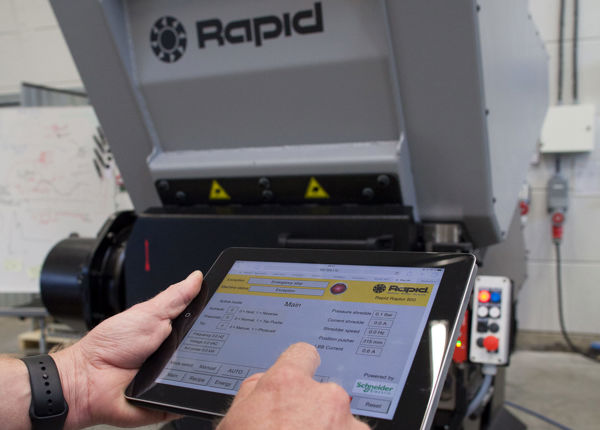 Raptor Industry 4.0
All Raptors come with a programmable PLC-control that enables monitoring and remote communication. The machine has a built-in WiFi supporting real time tracking of the recycling process, energy usage, warning messages about possible problems and much more.
"Recipes" can be changed and created for each recycled material to optimize for capacity and energy usage in line with your requirements.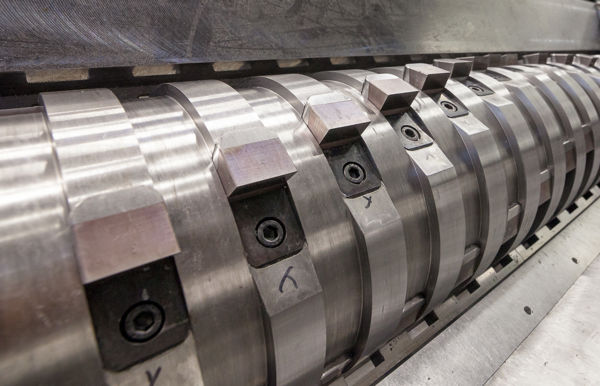 QuadCUT Knife System
The new patented QuadCUT knife design provides four cutting edges per knife. The knife consists of a solid body without any bolt hole. Clamping is done with a wedge joint. A sacrificial piece of softer material is mounted behind the knife which protects the rotor from damage due to sudden impacts or metal in cutting area.
Model
FLEXIPUSH 800
FLEXIPUSH 1350
Rotor
 
 
Rotor diameter, (mm)
280
280
Rotor, type
QuadCUT™
QuadCUT™
Rotating knives 
23
39
Rotor speed (rpm)
60
Cutterhouse
 
 
Cutterhouse dimensions (mm)
800x1010
1350x1010
Fixed knives
3
5
Transmission
 
 
Motor, standard (kW)
11
22
Optional motor alternatives, (kW)
15, 18.5, 22, 30, 37, 45
15, 18.5, 22, 30, 37, 45
Screen
Optional
Optional
Screen hole diam., (mm)
16-75
16-75
Hopper
 
 
Standrad hopper inlet, (mm)
800x1350
1350x1350
Weight, (kg)
4200
5000
| | | |
| --- | --- | --- |
| Model | FLEXIPUSH 800 | FLEXIPUSH 1350 |
| Rotor |   |   |
| Rotor diameter, (inch) | 11" | 11" |
| Rotor, type | QuadCUT™ | QuadCUT™ |
| Rotating knives | 23 | 39 |
| Rotor speed (rpm) | 60 | 60 |
| Cutterhouse |   |   |
| Cutterhouse dimensions (inch) | 31.5"x38" | 31.5"x38" |
| Fixed knives | 3 | 5 |
| Transmission |   |   |
| Motor, standard (Hp) | 15 | 30 |
| Optional motor alternatives, (Hp) | 20, 25, 30, 40, 50, 60 | 20, 25, 40, 50, 60 |
| Screen | Optional | Optional |
| Screen, hole diam., (inch) | 5/8"-3 | 5/8"-3 |
| Hopper |   |   |
| Standrad hopper inlet, (inch) |  31.5"x53" |  31.5"x53" |
| Weight, (Ibs) | 9300 | 11000 |
Dimensional drawing/layout
| | | |
| --- | --- | --- |
| Model | FLEXIPUSH 800 | FLEXIPUSH 1350 |
| A | 800 | 1350 |
| B | 520 | 1070 |
| C | 1730 | 2280 |
| D | 600 | 1150 |
| E | 1240 | 1790 |
| | | |
| --- | --- | --- |
| Model | FLEXIPUSH 800 | FLEXIPUSH 1350 |
| A | 31.5" | 53" |
| B | 20.5" | 42" |
| C | 68" | 90" |
| D | 24" | 45" |
| E | 49" | 70.5" |