150 Series
Rapid 150 series is a small high-performance granulator that is primarily intended for "beside the press" recycling of sprues and defective small products. Immediate grinding directly at the production machine allows the regrind to be returned directly to the process. It raises the product quality and avoids accumulation of sprues and reject products. 
Easy cleaning – for material and/or color changes.
Highest possible regrind quality.
DeltaTECH –

standard models with flexibility.

PowerTECH – configured for filled/abrasive materials.
Cassette knives – quick and easy knife changes.
Constant Cutting Circle (CCC).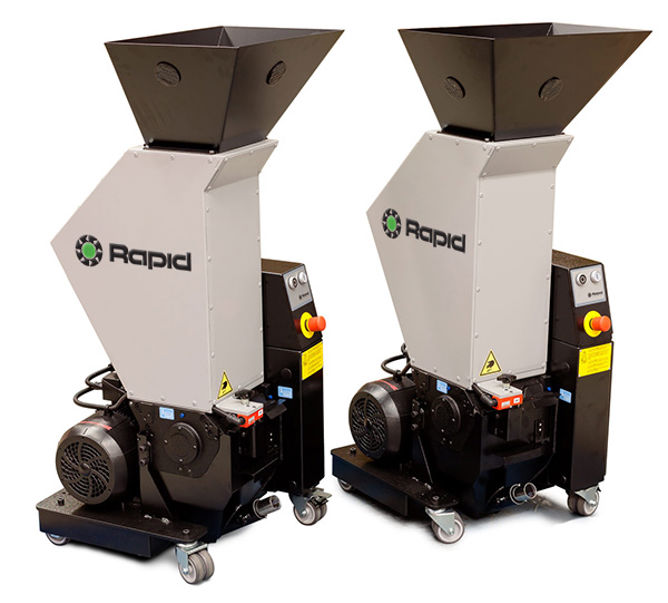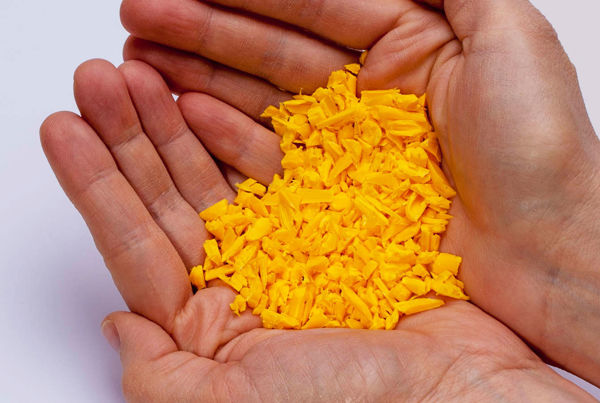 Recycled material with properties of virgin resin
Knives of the highest quality and Rapid's unique knife placement that maintains a constant distance between the screen and the housing, help produce regrind with properties equivalent to virgin raw material. You can feed the granulated material directly back into the process without any intermediate storage, drying, etc. 
The goal of all recycling is to get a regrind that has uniform size distribution with minimal dust & fine particles. Rapid's 150 series fully supports "Closed Loop Operation" for best production yield.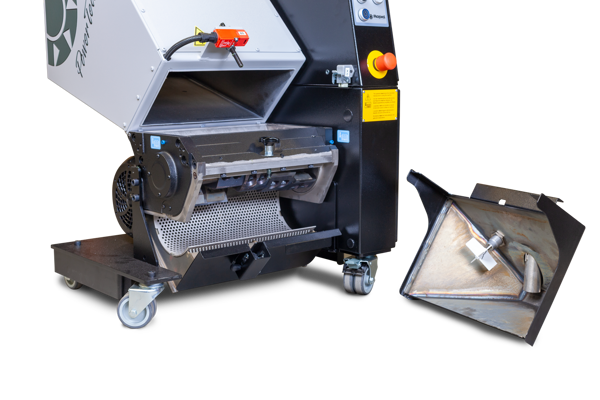 PowerTECH – for tough materials
Glass-filled and other abrasive materials can be a challenge in terms of wear on knives, screen, and granulator housing. 150 series PowerTECH version has wear-resistant housing, screen and knives with specially treated steel that reduces wear from the abrasive materials.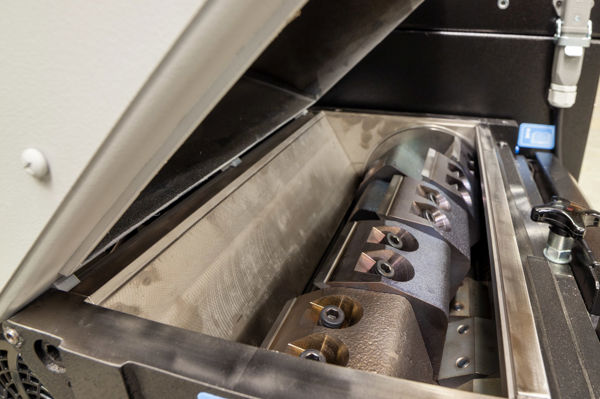 Staggered cassette knives 
Staggered and angled placement of knives on the rotor allows more cuts per revolution. More cuts in turn produces a much smoother and energy-efficient granulation that results in a regrind with smooth edges and melting properties equivalent to virgin raw material. 
Special manufacturing process and use of high-quality steel help ensure the small cassette knives have a very long service life. And when it is time to change knives, it's a quick and hassle-free process. 
| | | | |
| --- | --- | --- | --- |
| Model | 150-21 | 150-35 | 150-42 |
| Rotor diameter, (mm) | 150 | 120 | 150 |
| Rotor type | Staggered | Staggered | Staggered |
| Rotating knives | 9 (3 x 3) | 15 (5 x 3) | 18 (6 x 3) |
| Cutterhouse, dim (mm) | 210 x 150 | 350 x 150 | 420 x 150 |
| Fixed knives | 2 | 2 | 2 |
| Motor, standard (kW) | 2.2 | 2.2 | 2.2 |
| Motor, alternative, (kW) | 4.0 | 4.0 | 4.0 |
| Screen hole diam. (mm) | 5 | 5 | 5 |
| Infeed opening, (mm) | 210 x 150 | 345 x 150 | 415 x 150 |
| Weight, (kg) | 160 | 200 | 220 |
| | | | |
| --- | --- | --- | --- |
| Model | 150-21 | 150-35 | 150-42 |
| Rotor diameter, (inch) | 6" | 6" | 6" |
| Rotor type | Staggered | Staggered | Staggered |
| Rotating knives | 9 (3 x 3) | 15 (5 x 3) | 18 (6 x 3) |
| Cutterhouse, dim (inch) | 6" x 9" | 6" x 14" | 6" x 17" |
| Fixed knives | 2 | 2 | 2 |
| Motor, standard (HP) | 3 | 3 | 3 |
| Motor, alternative, (HP) | 5 | 5 | 5 |
| Screen hole diam. (inch) | 3/16" | 3/16" | 3/16" |
| Infeed opening, (inch) | 6" x 9" | 13 1/2" x 9" | 16 5/16" x 9" |
| Weight, (lbs) | 350 | 440 | 500 |
Dimensional drawing/layout
| | | | |
| --- | --- | --- | --- |
| Model | 150-21 | 150-35 | 150-42 |
| A | 490 | 630 | 700 |
| B | 270 | 340 | 375 |
| C | 500 | 640 | 710 |
| | | | |
| --- | --- | --- | --- |
| Model | 150-21 | 150-35 | 150-42 |
| A | 19 1/4" | 24 3/4" | 27 9/16" |
| B | 10 1/2" | 13 3/8" | 14 3/4" |
| C | 19 3/4" | 25 1/4" | 28" |